Many investors were shocked to see their debt mutual fund NAV fall last week ( 9-13th Mar 2020) along with equity funds. Regardless of whether they were credit risk funds or banking and PSU funds the NAV fell. Many were left wondering, "which bond defaulted?".  Debt fund NAVs can fall due to a variety of reasons. Here is the reason for last weeks fall.
Debt fund investors should understand that the NAV of a debt fund can change in three primary ways: (a) To reflect the interest income the bond in the folio receive, the NAV will increase a little each business day. (b) Longer the duration of the bond in the portfolio, the more sensitive it will be to demand and supply changes. (c) NAV can change when the credit rating of the fund changes.
Update 20th March 2020: Also read:Why Liquid funds and money market funds also fell in the last few days
What happened in the bond market last week was a change in demand and supply. Foreign Portfolio Investors started selling Indian bonds resulting in a sudden loss of demand. When demand goes down, bond prices go down, the NAV goes down.
Market demand and supply is measured with the Bond yield =  interest income/ current price. When prices fall, the yield shoots up. Longer the duration of the bond, more will be the fall in price if demand falls, more will be the increase in yield, more will be the fall in NAV.
It does not matter if the bond is gilt or AAA-rated. A sudden mismatch of sellers and buyers (sellers > buyers) will lead to a fall in the NAV. The image above shows how the five-year gilt yield shot up in the last few days resulting in trailing one-week (one-month) negative debt fund returns. It would also affect hybrid funds to varying extents.
The corresponding picture for the ten-year gilt is shown below. A corresponding and proportional variation will be in seen in bonds of different duration and different credit rating. Data source: Investing.com.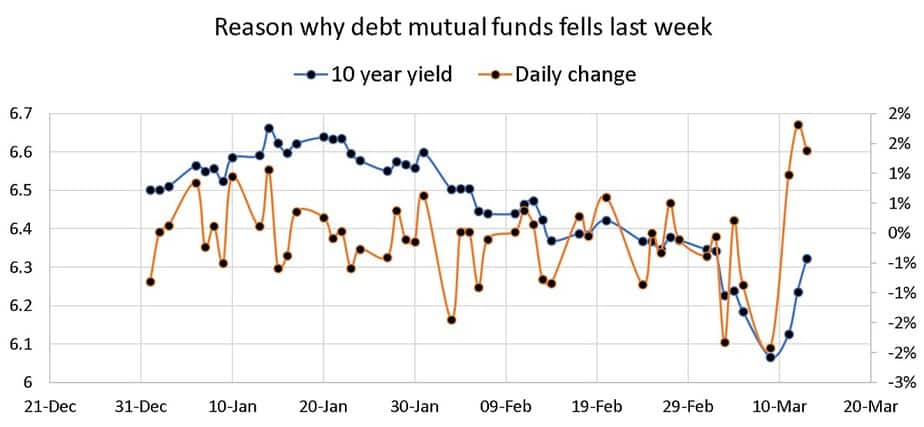 To understand how debt funds holding longer duration bonds are affected more, this is a plot of last one-week debt fund returns vs average portfolio maturity in years (x-axis). Data source: Value research.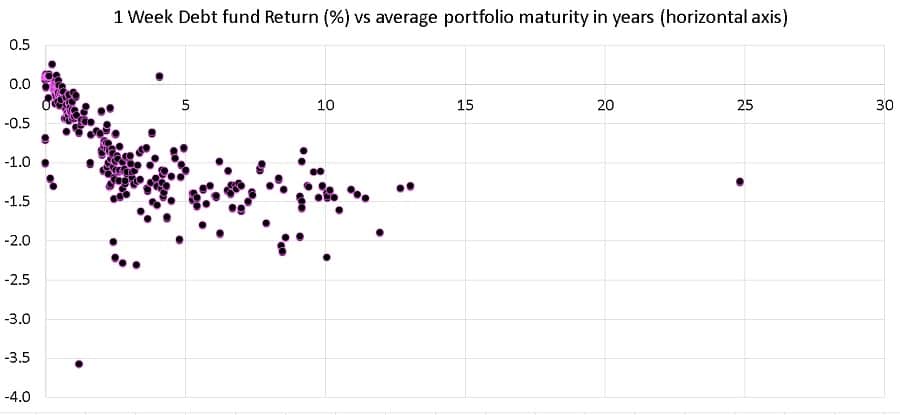 Only funds holding short-term bonds like overnight funds, liquid funds, money market funds were largely spared. Notice how the fall in NAV increases as the average maturity increases.
This is how a stock market crash can simultaneously affect the bond market. Let us wait and watch how the next week unfolds.
The post Why debt mutual funds fell last week along with equity funds appeared first on freefincal.