Among all newbie questions on mutual funds, this is one of the most logical questions enough to stump any expert: Since mutual fund carry a past performance disclaimer – past returns are not indicative future returns – why can't I invest in a mutual fund NFO?. The reason this is asked is, you would find many articles and many "experts" suggesting, "never buy NFOs!"
Everything we know about a mutual fund is based on past performance. From a simple NAV to returns, to one of these greek risk-adjusted measures, alpha, beta, etc. to the style of a fund manager, nature of the portfolio, PE, PB, everything is a data point in the past.
Of course, past decisions will impact the future. However, we do not know how and we cannot know. No matter how great the track record of a fund, no matter how consistent, mutual fund investing (like other personal finance purchases) is a leap of faith.
We are always learning new things about the market and market risk. A couple of years ago, no could have imagined an equal-weight index (Nifty 100 EW or Nifty 50 EW) to deviate so much from their parents Nifty/Nifty 100 because just a few stocks were responsible for the movement of the Sensex/Nifty. See: Return difference of Nifty 50 vs Nifty 50 Equal-weight index at all-time high!
We constantly see examples of past performance not meaning anything: Ten year Nifty SIP returns have reduced by almost 50%, and Franklin India Bluechip Fund has not beaten the Nifty for the last 11 years! and Misconceptions about the Nifty PE
Or how the definition of a "high PE" has constantly changed, how the Sensex was not overvalued when it crashed in 2008 (by its own PE track record).  From: Is the Market Overvalued?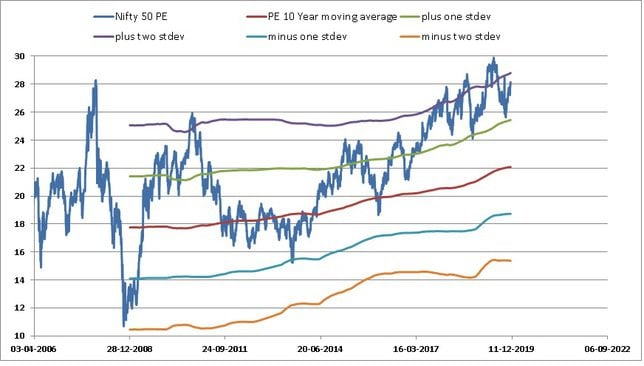 We are continuously seeing past star performers in the MF spaces relegated to average or below-average slots (eg. DSP 100, HDFC 100, HDFC Equity, HDFC Taxsaver etc).
A look at the rolling returns graph of any index or mutual fund would tell you expecting returns from mutual funds is a mistake.
Yes, mutual fund investing is a leap of faith. Thankfully, unlike life insurance where our nominees would find out if we got the right policy or not, unlike health insurance where we come to understand ground realities only when we claim and as the company gets more claims and from where an exit is difficult, mutual funds are easy to exit.
If you do not like a fund's performance you can exit at any time. Most investors fearing taxes, leave existing units as is "just in case" and buy a new fund. After a few years, they have more funds than their net XIRR number.
Since anyway past performance is of little relevance to the future, since buying mutual funds boils down to potluck, there is no harm in buying mutual fund NFOs.
However (there is always a however!), an NFO purchase makes sense only if it holds a unique place in your portfolio. Only if you can measure the impact of that fund on your portfolio.
If you already hold ten funds, then just about any NFO would amount to buying more of the same stocks you hold. In this case, an NFO purchase does not make sense.
If you get enticed by a bank RM exaggerated statements about a NFO, then it is a mistake. If you think purchasing NFOs will get cheaper units (at Rs. 10) and therefore more returns, it is a mistake.
The reason NFOs should be avoided is because most people have no need for them. Most of these have nothing unique/different from what is already available (often at lower expenses) and investors would already have them.
There is however no logic to the advice, "avoid NFOs because they have no track record, prefer a fund with a good track record". No logic because it would mean we are ignoring the past performance disclaimer!
Only new investors would have the necessary logical space in their portfolios to accommodate an NFO. They would probably lack the necessary guts. Experienced investors must summon up enough courage to discard past performance and expect market movements with an open, but a prepared mind. We could sleep better when we remove expectations from factors we cannot control.
The post Why not invest in NFOs if past performance is no guarantee of future returns? appeared first on freefincal.